Our team development pathway
Foundation Technology Development Team

Making it to A Grade requires hard training, talent and plenty of motivation. Having a team environment to learn team tactics, bike skills and having team mates makes the development process much more enjoyable.
Our pathway involves a B and C grade Foundation Technology team which competes in VRS and local races, aimed at creating a supportive learning environment.  The Foundation Technology team riders mentored by the A grade women's Pitcher Partners team.
Kelly Cycle Coaching prides itself on being able to develop riders from D grade or entry level and turn them into National Champions and National level riders.  With our process-based coaching philosophy, we have had proven success with developing many riders over the years.
This includes riders such as:
Angus Lyons
Maccie Carter
Paddy Burt
Drew Morey
Justine Barrow
Ben Andrews
Liam and Nick White
Our major sponsors, Drapac and Pitcher Partners, believe in the way we develop our riders.  We use a well-rounded approach where work/study/family commitments are important and the training program is designed around these lifestyle commitments.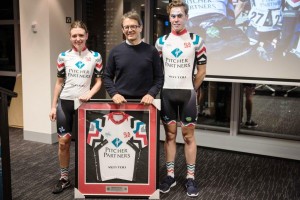 We find this approach is a proven formula as it allows an athlete to retain a healthy balance between cycling and other life commitments. This method of coaching is KCC's philosophy of retaining a balance between life and sport.
KCC helps you develop in all facets of your cycling so you arrive at a National level without neglecting areas of your development.  Our coaching approach ensures we assess and develop your:
horsepower
skills
tactics
bike position and technique
core stability/strength & flexibility
nutrition & diet
management