Physio & Myotherapist
Kelly Cycle Coaching recommends the following physiotherapists and myotherapists:
Katrina Carter
Lauren Wilson
Wendy Braybon
Kate McGillivray
Sam Leslie
Before commencing a core stablility and weights program, we recommend you get a Muscular and Skeletal screening to assess your current strengths and weaknesses.  Our recommended physio's can do this 'screening and assessment' for you.   Any imbalances or specific weaknesses identified can then be addressed both on the bike and also through specific core and stability exercises, prescribed by a Strength and Conditioning Coach.
Strong core muscles will ultimately help you ride faster.  To learn how to correctly use your abdominal muscles whilst you cycle.  Our recommended physio's use ultra sound techniques to show and teach you how to activate these muscles.
Reub Studios

Katrina Carter, Physiotherapist
Kat completed her physiotherapy study in Perth, before spending 6 years working as a senior musculoskeletal physiotherapist at various clinics in London. She has coveerd a wide range of areas within physiotherapy, including education classes and pilates classes.  She has a particular interest in working with cyclists and is a keen cyclist herself.
Email: info@rehubstudios.com.au
Lauren Wilson, Myotherapist
Lauren is a unique soft tissue professional, who delivers a holistic treatment approach through treatment and delivery of problematic not symptomatic solutions. She has successfully achieved higher patient outcomes across leading clinics and professional sporting organisations through a systematic approach to preventive, corrective and rehabilitative care.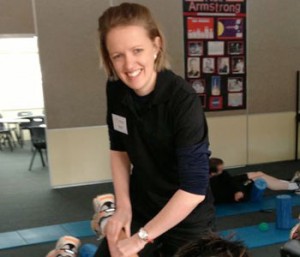 Email: info@rehubstudios.com.au
625 Nicholson Street, Carlton North, 3054
Ph: (03) 8060 0215     OR     (03) 9079 8848
Principal Practice – (Kate McGillivray and Wendy Braybon)
116 Punt Rd
Windsor VIC 3181
Ph: (03) 9529 2258
Fax: (03) 9510 2679
Email: reception@melbpg.com.au
For further information about Wendy and Kate, refer to their website: http://www.melbournephysiogroup.com.au/contact/
Credentials of our Physiotherapists are:
Wendy Braybon: Sports and Musculo-Skeletal Physiotherapist
APA titled Sports and Musculo-skeletal physiotherapist.
Qualifications in Remedial Gymnastics and recreational therapy and postgraduate qualifications in both Sports and Manipulative Therapy.
Represented Australia as Physiotherapist at Barcelona, Atlanta, Sydney and Beijing Olympics and was appointed Head Physiotherapist for the Commonwealth Games Melbourne M2006.
Is physiotherapist to VIS/Victorian Gymnasts, Victorian Women's softball team and AIS tennis.
Physiotherapist to Australian softball team 1982-2000, and travelled to both Atlanta and Sydney Olympics with team.
Co-founder of "Get Fit to Ski" programme and the Falls Creek Physiotherapy Centre.
Currently co-ordinator of physiotherapy at VIS.
Contributing author to the book "Sports Physiotherapy," where she wrote the chapter on shoulder injuries.
Lectures at Melbourne and La Trobe Universities at master's level in Sports physiotherapy.
Specific expertise in: Shoulder and elbow injuries, Pelvic and lumbar stabilisation.
Kate McGillivray – Physiotherapist & Pilates Practitioner (APMA)
APA Physiotherapist – sports and musculoskeletal specialist groups
Graduated from LaTrobe University Melbourne with Bachelor of Physiotherapy
Currently Physiotherapist to the Victorian Institute of Sport/Victorian Women's Gymnastics Team
Previously worked with Tennis Australia in their elite junior scholarship program
Level 3 Pilates Practitioner under the Australian Pilates Method Association (APMA) having taught in excess of 5000 hours
Over 7 years of experience as a Pilates practitioner during which she has worked with Australian Ballet dancers, AFL, Tennis Australia, and Victorian Institute of Sport athletes.
Assisted in the treatment of Melbourne Football Club Players as their Pilates Practitioner season '07 and '08
Certificate in dry needling
Accredited FitBall Instructor
Specific interests include: dance and sports injury rehabilitation, women's health physiotherapy, pre and post natal exercise, management of pelvic and lumbar spine injuries, dry needling, and exercise based biomechanical retraining.
Sam Leslie – Sports Physiotherapist
APA Titled Sports Physiotherapist
15 years experience in Musculoskeletal and Sports Physiotherapy
Qualifications in Masters of Sports Physiotherapy
Physiotherapist to AIS and Australian Cycling Team 2008
Physiotherapist to VIS Cycling team 2008-10
Physiotherapist to Swedish National Cycling Team, 2010 World Championships
Consultant Physiotherapist to Numerous members of International Sporting teams (Cycling and Athletics)
Lecturer/Clinical Educator to University of Melbourne, Latrobe University and Charles Sturt University
Clinical Pilates Instructor
Special areas of interest in development of strength and conditioning programs based on physical and biomechanical assessment of the athlete
Currently undertaking Doctoral studies in Chronic Fatigue Syndrome in the Athlete
Sam Leslie
127 Ballan Rd, Wyndham Vale, VIC, 3024
Ph: (03) 9742 5148
Email: sam.wvphysio@gmail.com
For further information about Sam, refer to his website:  http://www.wyndhamvalephysio.com.au/