Most aggressive rider: Bec Stephens

Kelly Cycle Coaching athlete, Bec Stephens earned herself most aggressive rider after stage 3 at National Capital Tour.  We asked her all about the event and how she raced the tour.
National Capital Tour: Rebecca Stephens

Prologue – what was the course like?
It was a short time trial, only 7km long but very tough. It started out flat for about 1km then a steep downhill straight into a steep uphill, turnaround, and then back down and up the same hills to finish at the start.
Was it tricky to race this style of course? (ie going out too hard, saving legs for the climbs etc)
I found it very tricky to get this right. It was not the type of course where you could just try and hold threshold, it definitely needed an 'over and under' approach but anyone who went too hard on the first hill to the turnaround certainly paid for it on the climb back up to the finish. I was in that camp a little bit myself. I was really struggling to put out decent power towards the end and lost quite a bit of time in the second half but I was treating this TT as a learning experience so wasn't too worried.
Stage 1 – what was the course like?
A 77km long road race consisting of 11 laps of a 6.3km long loop course finished with a ride out to the top of Black Mountain. There was some confusion during the race and we were mistakenly sent around for an additional lap of the loop so ended up doing 12 laps and racing about 85km all up.
What did you like about the course?
The course was very exciting; it had a bit of everything. In just over 6km it included 6 corners, one of which was a tight hot-dog style corner, plus some descending, and a climb. It made for really dynamic racing as there were lots of good opportunities to attack and get out of sight, and it required good climbing legs and smart positioning in the bunch to save energy.
What did you eat and drink?
Probably not enough! The extra lap thrown in really made me hurt. It was quite a warm day for Canberra, the sun was really beating down and I think I'm just not used to racing in warm conditions yet after the Melbourne winter. I drank 2 full bidons of sports drink and ploughed through a couple of rows of shot blocks and gels. I was starting to cramp up by the end and could have used a bit more food and probably a saltier drink mix.
The final climb up Black Mountain – tell us what happened?  Was it all together at the base and then it exploded?
Specialized rider, Lucy Bechtel, had been solo off the front for quite a while and the bunch just caught her at the base of Black Mountain. The climb kicks up straight away into a double digit gradient and that did immediate damage. I was positioned mid-pack and was already picking my way through riders pretty much as we were exiting the corner onto the climb. The bunch got broken up into very small groups straight away. Black Mountain is only short, about 3km from the base to the car park, but it was steep enough to completely break up the field and most riders crossed the line on their own. I finished in 19th spots two and half minutes behind the stage winner, Lucy Kennedy from High5 Dream Team.
Stage 3 – what was this course?
This was a much flatter course than the prior day. It started at the Stromlo criterium circuit and then headed back towards central Canberra for 3 laps of a 20km loop, then back to the criterium circuit to finish. All up the race was about 70km.
How did you race it? 
The plan for the team this stage was to be aggressive and try and be represented in every break. One of the riders for CBR, Emma Viotto, is quite a decent sprinter so we were working for her and trying to give the big teams plenty of work to do. I tried to initiate a number of breaks but the course didn't make it easy as it mostly used big, wide, open roads. Pretty much everything was getting chased down immediately but I managed to get away on the last lap by counter attacking straight after another move had been brought back. I was in the right spot at the right time and attacked down the left hand side of the road just the bunch was drifting to the right and sitting up. I was away for a little while but only had a maximum gap of 20 seconds so I knew I was getting hung out to dry by the pack. I still rode it as hard as I could to maximise the work that other riders were having to do to pull me back. It all came back together about 10km from the finish and ended in a bunch sprint.
Congratulations on winning most aggressive rider.  Is this the best result you've had so far in your cycling career?
Thank you! Yes, I'd say this was my best result. Even though it wasn't for a win or a place, I certainly didn't expect to win any jerseys in the NRS this year so I was pretty excited to get on the podium for something!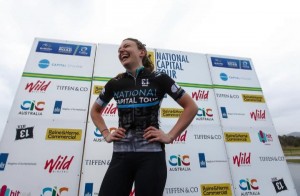 And lastly, stage 4 – the criterium.  What was this course like?
The criterium was held at Stromlo Park which is a dedicated closed-road course. It's pretty flat and has sweeping bends rather than sharp corners so the racing here is normally very fast.
And the weather was horrendous.  How did this challenge you?  Was it hard to maintain position.
It had been raining for a few hours prior to the start of the crit and it didn't really stop while we raced either. The course doesn't drain well so there was a heap of water and mud on the track which made visibility incredibly difficult. I think everyone was very aware of how dangerous the conditions could be so a lot of caution was exercised during the race. Even so, I did find it really hard to hold good position and ended up floating close to the back of the bunch. Every time I pushed up I would then lose spots through the corners because I just didn't have the confidence to go as hard as I normally would. I was a bit disappointed with myself about this because I recognise that racing happens in all weather conditions and you need to be comfortable racing hard in the wet. Something else to improve on next time!