Bec Stephens – Athlete Profile

Kelly Cycle Coaching has been coaching Bec Stephens for 4 years now. She started with us as an entry level C grade rider. She is now the captain of our Pitcher Partners/Kelly Cycle Coaching womens A grade VRS team, and has been doing several NRS events this year.
We interviewed Bec to find out why she enjoys cycling and what makes here tick.
Name: Rebecca Stephens
Age: 31
Current occupation (if working): I work a head office job for ANZ.
Academic studies achieved or currently undertaking:
Completed a double bachelor degree, Media Studies and Law.
Age you got into cycling:
I was 27 when I started cycling.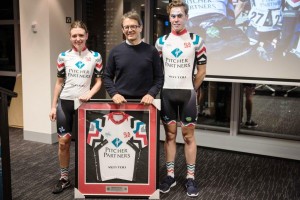 What type of riding do you do (mtb, CX, road, etc):
Just road. I've been on a pump track once…on a road bike, but surely that counts for something!
Your favourite efforts you like to do:
Threshold efforts in the hills with maximum effort surges/attacks thrown in. So painful but so, so satisfying.
Your favourite place to ride:
For local training, I think at the moment I'd have to say the Dandenongs. The scenery is just so nice there and there is such a great variety of climbs, you can always find something to cover off the efforts you need to do. Kinglake and the surrounding area is an extremely close second.
Your favourite food after you've done a long ride: Ha, how long do you have?
OK, after a long weekend training ride I love scrambled eggs with sourdough multigrain toast, avocado, and maybe some haloumi or fetta. Plus coffee, always coffee. Everyone who knows me will know I'm fibbing if I don't also disclose that I'm quite partial to a cake or pastry of some sort if the ride justified it!
What is your biggest cycling achievement so far:
This is a hard one because when I started riding I came from such a low base that I can still remember many 'big' achievements along the way which now don't seem so huge. I can recall the first proper training ride I attempted in 2012 where I covered 25km and was totally spent and felt I'd achieved something pretty major! I used to think hill training meant going to the Kew Boulevard, not even kidding.
So I think I'd have to say the biggest achievement hasn't been a specific race or particular outcome, it has been maintaining resilience and persistence and continuing to believe that if I kept working I would keep improving and the next level of competition would slowly come to be within my reach.
What used to be hard for you in cycling that you can do now:
I was terrified of descending or even going around any corner really when I first started out. With lots of practice and plenty of coaching I've been able to develop descending and cornering skills that allow me to keep up with the rest in high level races. Barring the occasional mishap, I actually really enjoy going fast downhill now!
What are things that you are still mastering in cycling:
My bike handling skills still have plenty of room for improvement. For example, I can't bunny-hop very well and doubt I could get enough air to jump a gutter if push came to shove. In general terms my handling skills aren't at a high enough level to give me confidence to always hold onto a tight spot in the peloton but it's something I'll be working on. Time trialling is another Achilles's heel of mind that I'm working to improve.
What is it about cycling that you like so much:
Cycling works for me on so many levels! At the simplest level, the act of riding a bike is just so much damn fun. There's something really exhilarating about the fresh air, the scenery passing by, the fun of using your own body to propel a fast machine, the whirr of wheels on road, and the simple pleasure of getting to the top of a hill or arriving at a coffee stop.
At a deeper level, I love cycling because it has taught me some serious life lessons. Cycling has allowed me to prove to myself that I'm not hopeless at all sports. People often ask cyclists who arrived at the sport later in life, "where did you come from?" meaning what sport did you transition from. When I hear this question, my answer is "the couch". By tackling various cycling challenges of increasing difficulty, my brain has gradually cottoned onto the fact that I am actually a really capable person who can do hard stuff if I set my mind to it. Cycling has made me change quite a lot as a person.
One of my favourite cycling quotes comes from Christine Majerus (rider for professional team Boels Dolmans) who said "It doesn't matter when you start. You don't have to be impressed by the boys and girls that started at eight, nine, or ten. Just keep going. Everyone can start at the beginning and go somewhere." That's why I love cycling.
Your aspiration in cycling is to: keep riding at a national level and become competitive there. At a stretch, hopefully get to race my bike overseas someday.