Bay Criteriums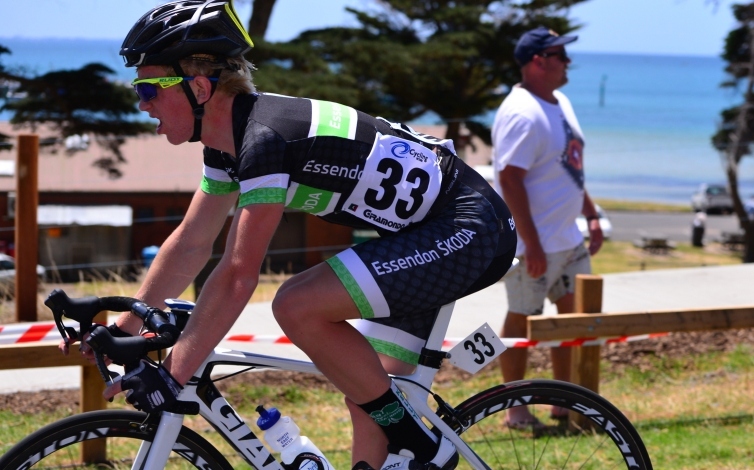 Kelly Cycle Coaching directed and managed 4 different men's cycling teams in the Mitchelton Cycling Bay Criterium Series, held from 1-3 January 2013.  Congratulations to Liam White who was on the podium on day 3 and finished 4th overall.
Our teams comprised of:
Degani Cafe Cycling team (U19 team)
Angus Lyons
David Randall
Jayden Cooper
Drew Morey
Sean McIver
Essendon SKODA Team (U23 team)
Michael Hale
Alex Woff
Liam White
Nick Bien
SKODA White cycling team (U23 team)
James Cummings
Camden Bush
Aaron Blomeley
Mark Kelly
Degani Bakery Cafe (Pro men's team)
Greg Henderson
Koen De Kort
Dean Windsor
Peter English
Ryan MacCanally
Hot Dog circuit, Eastern Gardens, Geelong – day 1
The technical hot dog circuit in Geelong saw the opening of the Bay criterium series.  This course suits a strong crit rider who can corner fast and punch out of each U turn and reach speeds of 50km plus, for 1 hour.  It is a test of stamina, bike skills and mental toughness, to win on a tight circuit such as this.
The team support race saw a break of 5 riders go up the road, including James Cummings (SKODA white).  About 10mins later, Liam White (Essendon SKODA) bridged across with one other rider. Unfortunately sand blew across the circuit with 4 laps to go, and claimed James Cummings.   Liam White was pushed close to the barriers in a tightly contesting finishing sprint, and had to settle with 6th place.
1.         Alexander MORGAN (Jayco VIS) 45:19
2.         Samuel DAVIS (Huon Salmon – Genesys) +0
3.         Nathan EARLE (Huon Salmon – Genesys) +0
4.         Jordan STANNUS (Seight Custom Cycling Wear) +0
5.         Sean FINNING (Jayco VIS) +0
6.         Liam WHITE (Essendon SKODA Cycling Team) +0
In the men's pro race, Greg Henderson immediately hit the front and drove it and opened up a sizeable gap.  He kept the pace on and no-one attempted to bridge.  This left Henderson out there, who claimed the first intermediate sprint and took the lead in the Sprint Jersey competition.  Caleb Ewan (Bikebug) won the opening stage, while Henderson finished 5th and holds the lead in the Sprint Jersey competition.
Stage 1: Ritchie Boulevard, Geelong Eastern Beach
Elite Men's Results
| | | | |
| --- | --- | --- | --- |
| Pos. | Rider | Team | Points |
| 1 | Caleb EWAN | Bikebug | 12 |
| 2 | Jens MOURIS | Orica-GreenEDGE | 10 |
| 3 | Thomas SCULLY | Grays Online | 8 |
| 4 | Graham BRIGGS | Great Britain National Team | 7 |
| 5 | Greg HENDERSON | Degani Bakery Café | 6 |
Portarlington hilly circuit – day 2
In the team support race, a break of 8 established a 50sec lead early in the hilly circuit race.  This break included 4 Genesis riders who had been dominating the NRS in 2012. One of KCC's athletes, young 16 year old, Angus Lyons (Degani),  bridged solo to the break with 4 laps to go.  At 3 laps to go, he then boldly attacked them but within half a lap they had reeled him in.  A rider in the break then crashed, causing Angus to lock it up and slide sideways to avoid him.  Unfortunately, this incident caused him to lose contact with the break.  Angus was absorbed by the bunch with 1 lap to go.  Liam White (Essendon SKODA) positioned well in the penultimate lap and kicked strongly from the final corner to win the bunch kick and finish 9th.  Liam maintains a top 10 GC position heading into the final day of racing.
Countless attacks and an impressive early solo effort earned Luke Durbridge the stage two victory in Portarlington in the pro men's race.  Henderson, who commented on suffering today from the heat and a slight head cold, finished 10th on the stage and maintained his lead in the Sprint jersey competition.
Williamstown flat circuit – day 3
An attack on lap 1 by Sean Finning was the last the Support teams race saw of Sean for the entire race.  He time trialled away to take the stage and move up into 3rd in GC.  Liam White (Essendon SKODA) won the bunch kick, ahead of Luke Parker (VIS) to finish 2nd on the stage and secure 4th in GC.  A great result for this young 17 year old.
Overall, the Degani U19 team rode well above their years against riders, 3-8 years older than themselves.  Watch out for these guys over the next few years.
Pierce Connor also competed in the final day of racing and was in the top 20 until a flat tyre ended his race.
In the Pro men's race, Mitch Docker (Orica Greenedge) also went on the attack early with Harry Carpenter.  The two of them stayed away, with Docker taking a comfortable win.  Henderson, who also rode in the Sun Tour prologue later that afternoon, positioned well with 3 laps to go, to win the bunch kick for 3rd.   Henderson finished 2nd overall, due to his consistent performance over the 3 days of criteriums.
For a collection of great photos taken by Jim Morey, please click on the following links:
Day 1 – https://plus.google.com/photos/100217999354378425148/albums/5829910132345773697?authkey=CPHz58vaze7eoQE
Day 2 – https://plus.google.com/photos/100217999354378425148/albums/5829914597417496721?authkey=COil7s_Lqomm7QE
Day 3 – https://plus.google.com/photos/100217999354378425148/albums/5829938631209893889?authkey=COeZueC-9b2YLw
General Classification – Pro Men
| | | | |
| --- | --- | --- | --- |
| Pos. | Rider | Team | Points |
| 1 | Caleb Ewan | Bikebug | 23 |
| 2 | Greg Henderson | Degani Bakery Café | 14 |
| 3 | Mitchell Docker | Orica GreenEDGE | 12 |
| 4 | Jen Mouris | Orica GreenEDGE | 12 |
| 5 | Graham Briggs | GBR National Team | 12 |
| 6 | Luke Durbridge | Orica GreenEDGE | 12 |
| 7 | Harry Carpenter | Team SASI | 10 |
| 8 | Kristian House | Rapha Condor JLT | 10 |
| 9 | Leigh Howard | Orica GreenEDGE | 10 |
| 10 | Shaun Mccarthy | Team Budget Forklifts | |
General Classification – Team Support Event
1.         Alexander MORGAN (Jayco VIS)                                 27
2.         Samuel DAVIS (Huon Salmon – Genesys)                    24
3.         Sean FINNING (Jayco VIS)                                          18
4.         Liam WHITE (Essendon SKODA Cycling Team)          17
5.         Jordan STANNUS (Seight Custom Cycling Wear)        15
6.         Nathan EARLE (Huon Salmon – Genesys)                   15
7.         Joseph COOPER (Huon Salmon – Genesys)               12
8.         Luke PARKER (Jayco VIS)                                          11
9.         Jacob SUTHERLAND (Total Rush / Hyster Racing)     8
10.       Michael CUMMINGS (Rapha Condor JLT)                  7