Open Water Swim Champion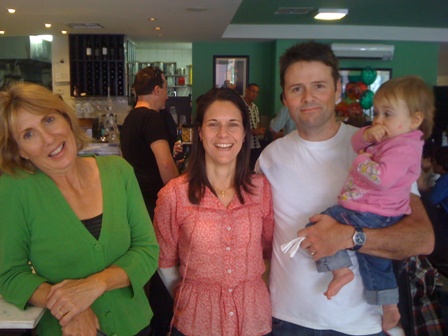 Leanne Sheeane is an Open Water swim specialist Bob has coached for several years now.  A few weeks ago she headed to Perth to compete in the Masters Swimming National Championships.  With a busy work schedule and a pre competition cold, she wasn't confident of placing in any of her events.  Her doubts were quickly subdued when she came home with a collection of silver medals and a gold medal. Here is what Leanne had to say about her enjoyment of swimming and how she became Open Water Masters Swim Champion.
How many years have you been swimming?
I have swum all my life really but at some stages more seriously than others.  I swam for Broadmeadows Swimming Club from the age of 13-16.  Then I played waterpolo when I was 17 -18 for Essendon-gave it up and then took it back up at 22 for Footscray.  I played until I was 30.  I went back to the water when I was 48 to train for the Pier to Pub swim.  I loved it so much I have been swimming ever since.
How many hours a week do you swim?
It varies but  I train in the pool at least 4 times a week for an hour and a quarter.  When training for big events, I might step this up to 5 or 6 sessions in the pool.  Before the Nationals I added a couple of weights sessions.  I also do  a very slow run  with the weights sessions.
What is your regular occupation and how do you manage to juggle swimming and teaching?
I am a Principal of a Primary School and I try and juggle my training by getting up very early and swimming before work at 5.30am.  One session I do on a Saturday morning and I sometimes will do a Thursday night.  Evenings are difficult for me as I have meetings and I want to spend time wit my family.  By going in the morning, I exercise while they sleep.
 
Could you please describe the Open Water race day conditions.  Were there strong currents, waves.  Was it a beach start or deep water?
 The Open Water Swim was at the Swan River In Matilda Bay-so really perfect conditions for a pool swimmer. It was a cold morning and unlike Victorian Swims the National Masters does not allow wetsuits.  It was a deep water start and we had 5 minute warm up time.  As it was no wetsuit swim, I made sure that I was in the water as soon as we were allowed so that I would acclimatise.  There were only two waves and I went off in the first wave that had about 80 or so swimmers.  Being an old water polo player, the arms and legs of 80 people swimming fast does not worry me.  Another aspect  that I think was in my favour was the fact that the river was filled with jelly fish.  However,  unlike the Victorian jellyfish they do not sting.  So once I knew that it did not phase me but I think it did upset some of the other swimmers.  The last bit of luck for me happened when one of the fastest swimmers went out in the lead and then went off course. Many others followed him but again because of my water polo stroke I could swim and look up and see the buoys clearly.  It all added in my favour and I ended up coming home a minute before the favourite to win my age group-a Western Australian lady , Eleanor Parsons.  She was a terrific competitor and won all the pool gold medals.  It was good to win one myself.
What did you eat the morning of the event?  Were you nervous?
I would love to say I ate a very healthy breakfast but the truth is I was so nervous I could only keep down a few bites of a pikelet.  On the other days I did eat some light cereal.  Before my swims, I would sip water or powerade.  I did eat some cereal bars and bananas as well. 
 
How did the race unfold?  Did you go out pretty hard at the beginning or swim at a steady pace?
I went out fairly hard and then I slipped into an even pace.  I would set markers for myself and swim hard for 100 -200 meters and then ease off slightly . Then start again once I felt I was cruising . 
How did the finish unfold.  Was there a sprint to the line or did you have a few metres to enjoy the moment?  Did you wear a wetsuit?
I was actually sprinting at the end as one of the young male swimmers who went off course came surging home.  I tried to keep up with him for as long as I could.  After two kilometers I was tiring quickly (this is where breakfast would have helped)
Leanne also competed in the 200m, 400m and 800m freestyle, 50m butterfly, finishing in the top 5 in all events.  Well done Leanne.